2022 Charitable Impact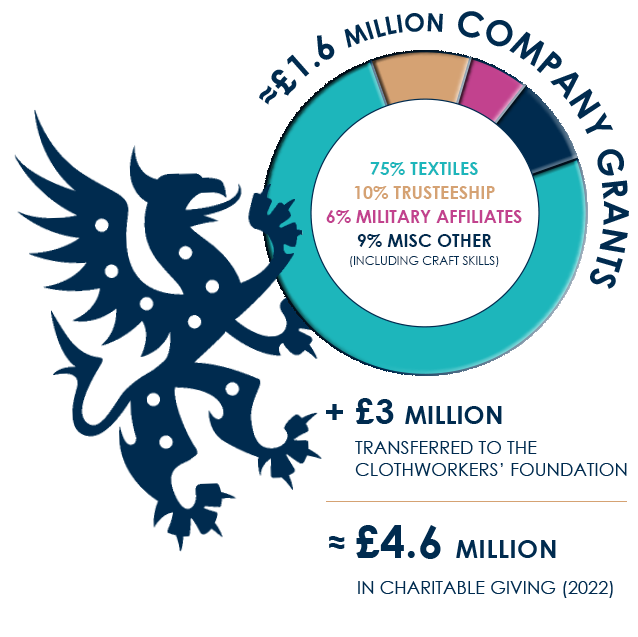 Charitable Giving and Grants
The wealth of The Clothworkers' Company is built upon our historic property assets, and has continued to grow through generous bequests and responsible stewardship. The Court of Assistants (and supporting committees), staff and professional advisers work hard at maximising our resources to cover the cost of our operations and fund our ambitious charitable objectives.
Each year, we donate approximately £3 million The Clothworkers' Foundation and distribute in excess of £1 million in additional charitable grants towards textiles, trusteeship, support for our military affiliates, and more.
We also direct funds towards a variety of other community projects and inter-livery initiatives, and we commission contemporary silver and designer bookbindings as a means of supporting endangered crafts.
2022 Impact in Textiles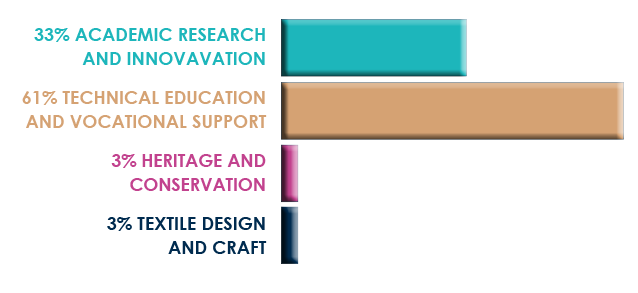 Industry Mission
Textiles: Our 'Industry Mission' refers to our annual contributions towards textiles. We make strategic grants toward four key areas to support the UK textiles industry:
Academic Research and Innovation,
Technical Education and Vocational Support,
Textiles Design and Craft, and
Textiles Heritage and Conservation.
2022 Impact of Other Grants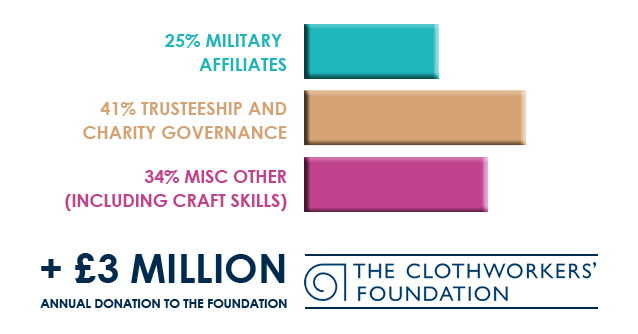 Charitable Mission
Trusteeship: We encourage trusteeship among our members, and make strategic grants to organisations and projects aiming to improve charity governance across the UK. Find out more about our activities in Trusteeship.
Military Affiliates: We have long-standing relationships with a number of military affiliates, and fund work to support the service men and women and their communities. Find out more about our Military Affiliates.
Misc Giving: We use our position and our wealth to fund a number of other causes in the City of London, and beyond. In 2022, this included sponsorship for Inspiring Connections (an advocacy and mentorship programme delivered by Catch-22 aiming to help disadvantaged young people in London into more meaningful employment) as well as No Going Back (a programme designed to prepare individuals in prison for job opportunities that will be offered by City of London livery companies or their partners and/or members). We made grants to St Paul's Cathedral to support an exhibition celebrating the Silver Jubilee and a bursary for a chorister at the Cathedral School.
We also funded workshops through The Creative Dimension Trust, bursaries for Bishopsland Educational Trust and the South House Silver Workshop Trust, and funded a Licentiate Pilot Scheme to support a mentoring and training programme with Designer Bookbinders (among others).
The Clothworkers' Foundation
We make substantial annual donations to The Clothworkers' Foundation. In 2022, this was approximately £3 million.